15 octobre 2009
4
15
/

10
/

octobre
/

2009
11:10
There are 7 days in one week



The seven days of the week are
Monday /'mʌndeɪ/
Tuesday /'tju:zdeɪ/
Wednesday /'wenzdeɪ/
Thursday /'θɜ:zdeɪ/
Friday /'fraɪdeɪ/
Saturday /'sætədeɪ/
Sunday
/'sʌndeɪ/
What day is it today ?
Is it Monday ? No, it isn't.
Is it Tuesday ? Yes, it is !
Today's Tuesday !
Come to the (black)board and choose the word corresponding to the day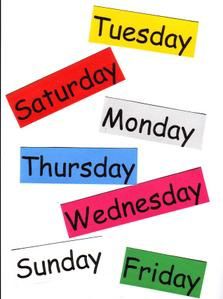 Let's sing a song !
The colours of the days

Monday is grey
Yellow is for Tuesday
Wednesday is pink, it's a nice day !
Then comes Thursday, everyhing is blue
Friday is green, tonight it's Halloween
Red Saturday
And white Sunday
, today it's fun
, it's holiday !
Let's sing another song !
The days of the week


There are 12 months in one year
The twelve months of the year are
January /'dʒænʊəri/
February /'februəri/
March /'mɑ:tʃ/
April /'eiprəl/
May /'mei/
June /'dʒu:n/
July /'dʒulai/
August /ˈɔ:gəst/
September /sep'tembə/
October /ɒk'təʊbə/
November /nəʊ'vembə/
December /di'sembə/

There can be 28, 29, 30 or 31 days in a month, but which ones ?




This poem

can help you to know and remember them


Thirty days has September
April, June and November
All the rest have thirty-one
Except for February alone.
And that has twenty-eight days clear
And twenty-nine days in each Leap Year.


Ordinal numbers

1st

first

2nd

second




3rd

third

4th

fourth

5th

fifth

6th

sixth

7th

seventh

8th

eighth

9th

ninth

10th

tenth

11th

eleventh

12th

twelfth

13th

thirteenth

14th

fourteenth

15th

fifteenth

16th

sixteenth

17th

seventeenth

18th

eighteenth

19th

nineteenth

20th

twentieth

21st

twenty-first

22nd

twenty-second

23rd

twenty-third

24th

twenty-fourth

25th

twenty-fifth

26th

twenty-sixth

27th

twenty-seventh

28th

twenty-eighth

29th

twenty-ninth

30th

thirtieth

31st

thirty-first



What's the date today ?


You can write
Thursday, October 15th 2009

Monday 15th October, 2009

But you say
Thursday, the fifteenth of October 2009

If you want to practise click here